During Winter Holiday "old" Erasmus people could take a rest of official ESN activities and "new" Erasmus people could prepare for new School Term. However, ESN KE members were not relaxing, neither taking rest. We were preparing activities for amazing Summer Term 2016/2017. Traditionally, we opened it with exciting and event-full Welcome Week. What we have been doing? Let´s read :)
Infomeetings at TUKE and UPJŠ (Monday 13th February)
On Monday, the 13th of February we started our Welcome week at University of Pavol Jozef Šafárik, where all new UPJŠ Erasmus students were nicely welcomed by UPJŠ coordinator. It was for the first time when Erasmus students could meet each other in school, so it was good opportunity for them also to get in touch with their schoolmates. The coordinator Mrs. Mária Vasiľová gave them basic information about their studying stay in Slovakia, explained rules of studying and they were given some materials about their University. Also, ESN KE members presented themselves with short presentation about ESN KE organisation which was presented by ESN KE President Lukáš Varholík and ESN Slovakia National Representative Marianna Rudinská. At the end of this session, Erasmus Students could buy Welcome Pack full of amazing vouchers, materials about Košice and Slovakia and very important ESN card which will open doors for new adventures with great discounts. So new term with ESN can start. Same Infomeeting happened on other university, that time with Mrs. Erna Beres in TUKE rectorate.
Speed Dating (Tuesday 14th February)
Speed Dating took place in the very beginning of Welcome Week in T-Club. The Date was perfect while it was St. Valentine´s Day. What could be better than spending this romantic day full of love with Erasmus people and getting know each other for the first time? In the evening people started coming and talking to each other in smaller groups looking around and waiting what will happen while ESN team was preparing the room for the big event. The head of ESN KE gave the brief introduction to all students and the fun had begun. The boys were sitting at one side and the girls on the other side of long queue. They all had just 40 second to talk to each other. To get to know each other. To smile. Then let´s go, the queue moved. The room was filled with around 80 young people full of joy, happiness and excitement. Except of that the room was super LOUD from all of that talking and laughing. After the activity, the voice of many students needed to rest, but the excitement of meeting so many new people in the beginning of their Erasmus experience caused even more talking, chatting and smiling. We asked students who took part to tell you how they felt. Here are some opinions:
Evelina from Lithuania: It was fast and funny. It gave me a possibility to meet others I liked it!
Ana Maria from Romania: It was really fast and really fun! I enjoyed it at maximum. It wasn't that kind of "speed dating" where you feel embarrassed to meet someone new and worry about what you're gonna tell them or what you're gonna ask, you simply didn't have time to feel that way. I think it's the best way to meet so many new people and break the ice.
Isidora from Serbia: I enjoyed speed dating because it gives you the opportunity to meet and talk to people you usually wouldn't because there is no time. It's also exciting because you get to hear interesting info about a complete stranger. Although, it is a bit exhausting because you have to yell a lot in order to be heard. Overall, a fun experience I wouldn't mind repeating.
Mustafa from India: Most amazing thing I enjoyed is to meet with someone I never meet before. It was absolute thrilled and far more fun than expected.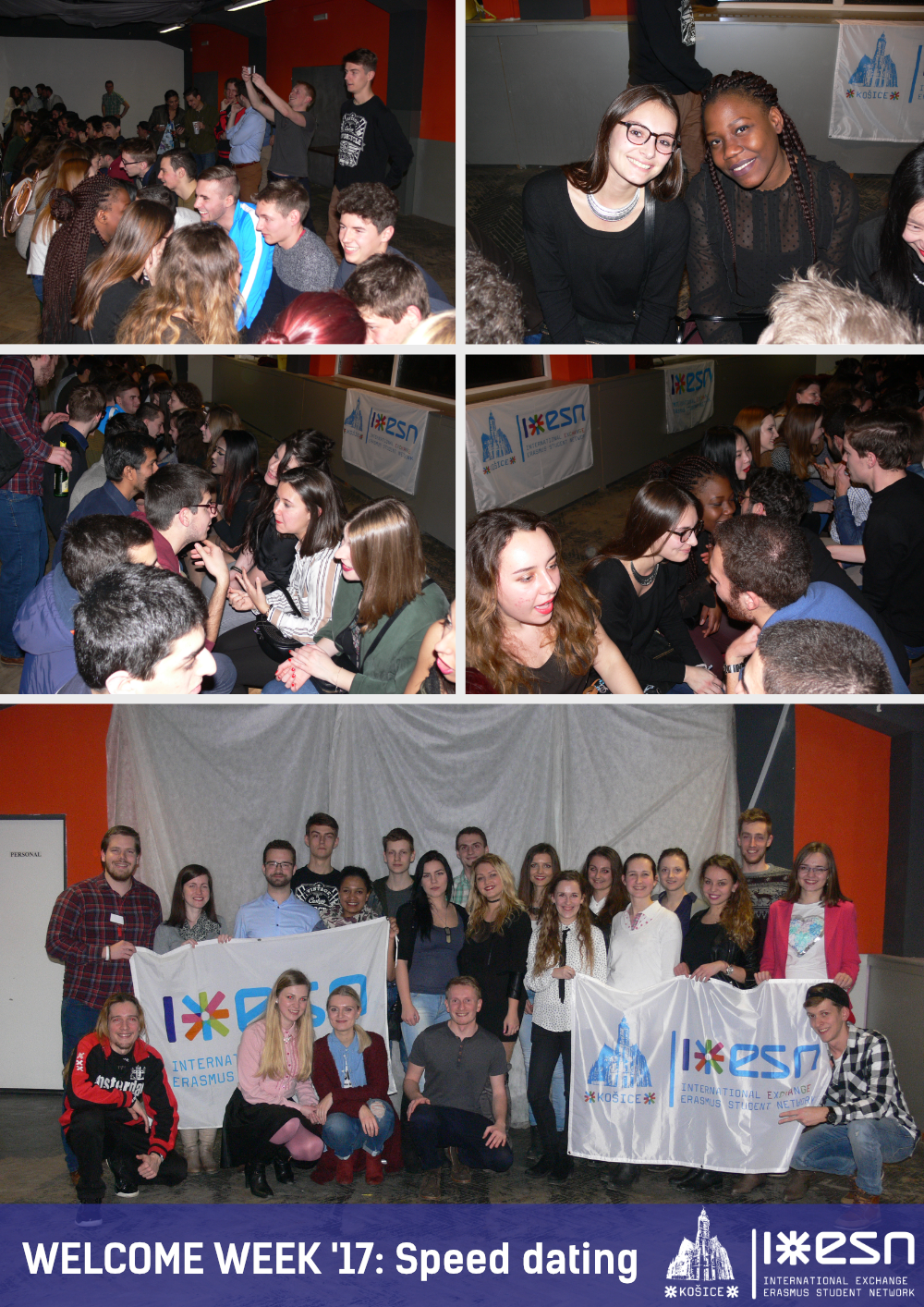 Welcome Slovak Dinner (Wednesday 15th February)
On Wednesday 15th, during Summer Welcome Week the event called Slovak Welcome dinner was organized, where Erasmus students had opportunity to taste most famous food of Slovak cuisine called "Bryndzové halušky". This traditional food consists of dumplings with sheep cheese and is usually eaten with sour milk. Some students are not used to drink that kind of milk, so they had normal one. There was also prepared a strudel with poppy seeds and raspberries. The food and desert were delicious. After having a dinner, there were organized some activities. Firstly, students participated in a quiz about Kosice and Slovakia. Three teams were able to pull of 9 points from 10. Afterwards we showed them a video from Slovak Nation2Nationt event which was held last semester. Erasmus students really loved it, and already now they are waiting impatiently for the next one.
Free Hugs (Wednesday 15th February)
The 15th of February is usually a very normal day when nothing special seems to be happening in our town. Especially since the day before is the famous Valentine's day. There was something off with this year's February 15, though. Something very odd was happening in the streets… because normally people don't go around the Main Street with huge "HUG ME" signs in their hands, wide smiles on their faces and the determination to hug someone. But we did, and I believe it was the best decision. We decided to try the Free Hugs Campaign movement. We made our signs, wore warm clothes and went outside. I was surprised by the girls who arrived. Not only did someone arrive on that chilly day, but they were all enjoying it and we had a fun time and some quite interesting conversations about cultural differences associated to hugging in our own countries.
Five of us stood for over an hour in around 2°C, trying desperately to stand in the sunshine (which didn't help too much), and we had a blast! People were shy at first but then we had a few emotional moments with whole groups of friends hugging us, with a cheerful lady hugging each one of us or a couple of mommies with very small babies actually stopping to hug. Just as the official website of the campaign says: Sometimes a hug is all you need. Even on a cold winter's afternoon :) What some of the participants said about the event:
Isidora Milosevic expressed her excitement : "For me it was one of the events where I had the most fun and I'd absolutely do it again in a drop of a hat. What's more, I'm looking forward to doing it again when the weather is nicer and there will be more people!"
Also Macedonian girl Marija Micova shares this opinion: "I enjoyed the free hugs, I had so much fun and I would like to do it again. And I hope that if there is an event like this again, more people will want to hug!"
"I really enjoy social events or let's say experiments like this. In my opinion it went well, at first people were avoiding us but then they started hugging. I didn't expect to get or to give so many hugs! Of course, I would like to repeat this again." adds other Macedonian student of TUKE Ana Marija Petrova.
Tour de Košice (Wednesday 14th and Thursday 15th February)
It was Wednesday the 15 th of February when a group of young and courageous students decided to explore their new home – Košice. It was brave of them since the average temperature at that day didn't exceed 0⁰C. Despite that, they enjoyed listening about the secrets of Košice and its inhabitants from the point of view of their young guide Baška. She showed them around the historical city centre and advised them the oldest bakery in the town Aida, where most of them enjoy a sweet cake as a reward for that one hour of freezing. Luckily, they gained enough strength to go to Welcome Slovak Dinner afterwards :)
Kaan Akintas from Turkey also enjoyed the tour ans says: "It was really nice and we were so appreciated with the guide. She introduced the things very well and even though not too many people joined it was quite funny and interesting day."
Welcome Erasmus Party (Thursday 15th February)
One of the famous events during the Welcome Week is also Welcome Party. We met each other in a pub where we started to have fun together by talking about different topics and enjoying time with some drinks. After that we moved to the club and the show started! We danced a lot in a rhythms of loud music, moving the bodies from one side to another. Time passed very fast and in the early morning hours we went home totally tired but with positive memories of the night. Dancing is way how to express yourself, how to get positive energy and it is essential part of human nature, so to go dancing with Erasmus mates is important event of Welcome Week.
City Game (Friday 17th February)
Who doesn't like adventures?! Everybody loves them, so we made a city adventure, called City game, for our Erasmus students.
This adventure or game consisted of several tasks, that these students had to complete. Few examples of them: Kiss somebody on the Kosice's bridge of lovers, Take a picture with a uniformed person or for today well known, Mannequin challenge. We wanted them to prove their completed tasks with a pic or video. This game took place in the old city centre. Approximately 30 people have met in front of the State theatre from where they started their ''mission''. It lasted something around 2 or 3 hours. After the accomplishment of the mission, the afterparty was held in Collosseum pub. Where they came with big smiles on their faces telling us they had enjoyed it.
''At the first I wasn't with any of my friend so I was a little bit worried about being on my own but I am pretty sociable and I can easily talk to people so in the end it was awesome.'' Lucie Lamothe from France, one of our adventurers, said to us. It was really funny activity, connected with an orientation in the city, with memorable moments in the snowy weather. This was the main reason we decided to make such an activity for them.
Trip to High Tatras (Sunday 19th February)
After some exhausting events, we decided to spend almost last day of Welcome Week in the Mother Nature - and honestly, what is better option than High Tatras? Three girls from ESN Košice + almost 60 Erasmus students = the best compilation ever! (For those who had raised their eyebrows here – we didn't get lost, we didn't get hurt and we came back home on time!). We took a train from Poprad to Starý Smokovec fulfilled with snow. The first kilometer was spontaneously linked with innocent snowball fight. An "experience gap" was noticeable when students who had stayed for their 2nd semester took the lead role and some freshmen just whispered if these boots they put were really make for walking… When we finally got to Hrebienok, we made a group photo and visited Ice Church – the biggest and coldest winter attraction in High Tatras.
The main question was – to sled or not to sled? We had 2,5km so all of us decided to borrow the sleds right there and put our lives in the hands of fate. For someone a pretty cool challenge, for someone a first time. Those who were faster, greeted the others well prepared – with snowballs in their hands! As a final "chill out" dot of Welcome Week it was really enjoyable trip!
Blood Donation (Monday 20th February)
Dear readers, most likely you know ESN and how active they are, but let me surprise you that they do even more! Erasmus student network isn´t just about integrating Erasmus students during their stay and taking care of them, it also offers students the opportunity to pay forward the help they receive. Yes we are talking about Social Erasmus under which we made Blood donation event. A handful group of students and a few ESN members decided to donate one of the most precious liquids on earth. They all gathered in front of hospital waiting for the most courageous people to gather and they head inside. As usual they checked who is or is not suitable for donating and after this they went one by one to have last words with doctor before taking the big step. Unfortunately some of the participants could not donate blood which had made them quite disappointed. Unexpectedly both ESN members couldn´t go on due to recent intake of medications, but they did their job translating funny phrases from nurses and doctors such as "sit up" and more, but most importantly managed the smooth process of donation. One can imagine how critical it can be donating under the wrong conditions so ESN definitely took the responsibility of helping correctly and avoided one close faint (big applause). After the donation they stayed for some time to gather the energy after slightly tiring donation. It seems that they did a good job and not just ESN but all of them who voluntarily helped, either by blood or managing foreigners in Slovak-speaking environment. Haven´t they only left their blood to save somebody´s life, they also taught a few words the personnel leaving them with good feeling from having been talking (or trying to talk) to various nationalities. All in all, the brave participants left satisfied by their fruitful and helpful activity which we know will continue in many other different ways. Stay tuned!
Photos: ESN KE
Authors: ESN KE: Natália Uramová, Martina Čelková, Lenka Abrinková, Róbert Vavrek, Timea Krauszová, Simona Starinská, Katarína Lapčáková, Adam Racz, Kristína Tobiašová, Ladislav Cipka,